For the next five days, Lichgates will be free on Amazon. I know you may already have the book, but this is the perfect time to share it with friends and family, too. The last day to grab this deal is December 26th, so grab your copy and then tell your sister, your cousin and your aunt Betty about it! (Because just about everyone has an aunt Betty, right?)
Don't have a kindle? No problem. Scroll down to see why.
---
Lichgates: Grimoire Saga #1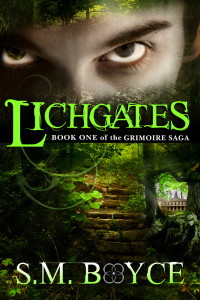 The final page will leave you breathless.
When Kara Magari uncovers a secret door in the middle of the forest, she discovers (and trips through) a portal to a hidden world full of terrifying things: Ourea. She just wants to go home, but the natives have other plans for her. She clashes with immortal shapeshifters, is carried off by a dragon, nearly dies on several occasions, and somehow becomes the master of an ancient book of magic called the Grimoire. Every time she thinks she's safe, her new "friends" show their true colors.
Kara needs an ally, or she might not survive Ourea's monsters. She drops her guard when Braeden, a native soldier with a dark secret, vows to keep her safe. And though she doesn't know it, her growing attraction to him may just be her undoing.
For twelve years, Braeden Drakonin has lived a lie. The Grimoire is his one chance at redemption, and it lands in his lap when Kara Magari comes into his life. Though he begins to care for this stranded girl, there's something he wants more. He wants the Grimoire.
Welcome to Ourea, where only the cunning survive.
---
Don't have a Kindle?
No problem! You can still read this book for FREE on your favorite device. Kindle books (and any Mobi file) can be read with the Kindle App available on most devices. For more info, visit Amazon's App Page.