As we make our way through the adventure called life, we all go through rough patches where the best thing for us is just a little inspiration. I created the Boyce Manifesto to give you that motivational boost everyone needs now and then. There are my twelve mantras to live by, and today I want to share a story about one of them.
#5 Adventures are Fuel for the Soul
My husband likes to monitor Living Social for cool deals. It's a great way to get out and explore new worlds within your city.
In one of these epic deals, he found a wine tasting available at a vineyard. There wasn't much to go on, but the listing was inexpensive and we figured it would be fun.
Little did we know it would be far as well.
We traveled for a good hour, the GPS blinking now and then as it lost signal and recalculated. I was a little concerned that we'd lose our Saturday to driving. Luckily, he's a joy and wonderful company. We chatted most of the way and daydreamed about moving to Seattle.
After fifty five minutes, we finally get to the turn off. I perk up in my seat. He pulls the car onto a dirt road. Dust spins up from under the tires. The car jolts as we ride over the bumps in the road. I grab the "oh shit" handle above the passenger's side window and hold on.
The path slopes upward. A barn appears at the top, with a few cars here and there. A pang of excitement rushes through me. Wine! It's almost here!
But at the top of the hill, we see a small sign:
Wine Tastings
Continue Forward
Lame.
We carry on, and the path slopes down. Left. Curves to the right. Down a little more. Up. Down.
Jeez. Is this wine tasting going to happen or what?
I ask my husband if we missed something. He shrugs. Are we even going the right way? Did we miss a turn?
Another little sign appears along the road:
Yeah, you're going the right way.
A little farther.
I burst out laughing.
Over the next hill, we see this: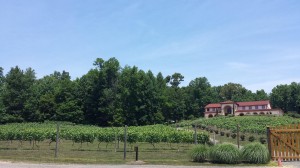 A beautiful Italian villa in the middle of the woods! Lines of grapes cover every inch of the ground along our right. Tall wooden fences box in the fruits as our dirt path continues through the vineyard.
Now this is what I'm talking about!
We pull into a parking lot and open the doors to beautiful acoustic music coming from a small stage by the open wine house. Wine barrels serve as tables, the surfaces framed by wrought iron chairs. And the wine! Totally worth the trip.
So the next time you're presented with an adventure and the chance to turn around, keep going. You might just find a perfect adventure at the end. Like we did:
This slideshow requires JavaScript.
 And if you're in the Maryland area, check out this vineyard for yourself: Running Hare Vineyard
---
What does this mantra mean to you?
Leave a comment below with your story.
---
Join the Tribe
For more inspiration and fun, join the tribe. I'll send you a free printer-quality copy of the full Boyce Manifesto, so you can hang it on your wall for daily motivation.